Successful Recovery at
Your Fingertips
Free 24/7 Information, inspiration and Motivation to help you succeed on
your recovery journey.
SMART Recovery is excited to announce that the SMART Recovery Mobile App is now available for free download for Apple and Android phones in the U.S. and Canada.
Our designers, programmers, coders and UX team integrated everything they learned from our volunteers and beta testers to create a mobile app that's easy to use by anyone, at any stage of their SMART Recovery journey.
After you download it, you'll be met with a list of inspirational quotes that motivate and inspire. Then you can find meetings wherever and whenever they suit you. Add them to your calendar, click on zoom links, join meetings with just a tap; everything happens right there on your phone.
No more looking for content and toolkit exercises through websites, YouTube pages, or multiple podcast platforms. All of SMART's content is now surfaced and viewable in one place through the app – with easy-to-navigate play buttons, crisp layouts, and enterprise-level playback and buffering speeds.
In a world where 90% of the apps on your phone rarely even get opened, we believe we've designed an app that you'll want to open and use every day. As time goes on, we'll make improvements, issue updates, and add new features, all with an eye toward giving our SMART Recovery community the highest quality mobile app experience possible.
Ready to go? Just click on one of the buttons below to download the app and get started. Don't forget to tell your friends and colleagues in recovery about the app so they can get started too.
The SMART Recovery Mobile App is an important milestone in our continued efforts to provide the highest quality services and accessibility in the digital age.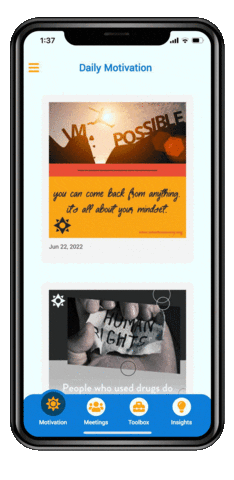 Scan the QR code to download our SMART Recovery App on your phone!
Attend your online meetings from your phone and consult all our online information, tools, resources at any time. Available for IOS and Android.
CheckUp & Choices is a confidential self-led online program that has been clinically proven to help SMART Recovery participants. The CheckUp & Choices website app works on internet-connected devices (computer, tablet, mobile) anywhere, anytime you need it.
The online program includes:
The CheckUp: a comprehensive alcohol self-assessment with objective feedback that helps resolve ambivalence about changing your drinking. It now included CheckIns every three months to measure your progress.
Choices programs: Structured and guided programs of cognitive behavioral and motivational exercises to help people achieve and maintain sobriety. Individual modules on alcohol, marijuana, opioids, stimulants, and gambling are included.
Subscribers get access to everything, 24/7. CheckUp & Choices will not label you or tell you what to do. You will be treated with respect and without judgment.
For questions or issues about your account, please reach out to CheckUp & Choices directly at [email protected]. The CheckUp & Choices paid application is a third-party product.
Click below to learn more about and to sign up for CheckUp & Choices.